About Sustainability at ACPWA
Sustainability means a clean environment, smart building practices, and healthy employees and communities. At the Alameda County Public Works Agency (ACPWA), sustainable practices help us meet our mission today, without sacrificing our ability to serve future generations. On this page we will feature information about current and ongoing sustainable practices that we are incorporating into our everyday work.
Turner Court Green Infrastructure Demonstration Project
ACPWA and the Alameda County Flood Control and Water Conservation District (ACFCD) converted the parking lot at 951 Turner Court in Hayward into a 142,000-square-foot Green Infrastructure Demonstration Project. A total of 14 different green infrastructure features are a part of this innovative site. The project was designed to demonstrate ways to reduce stormwater runoff and pollutants into creeks, wetlands and the Bay. The site's rainwater capture system is designed to capture water for landscape irrigation.

This project site also serves as a model and training ground where municipal agencies and private sector professionals can identify project features to emulate.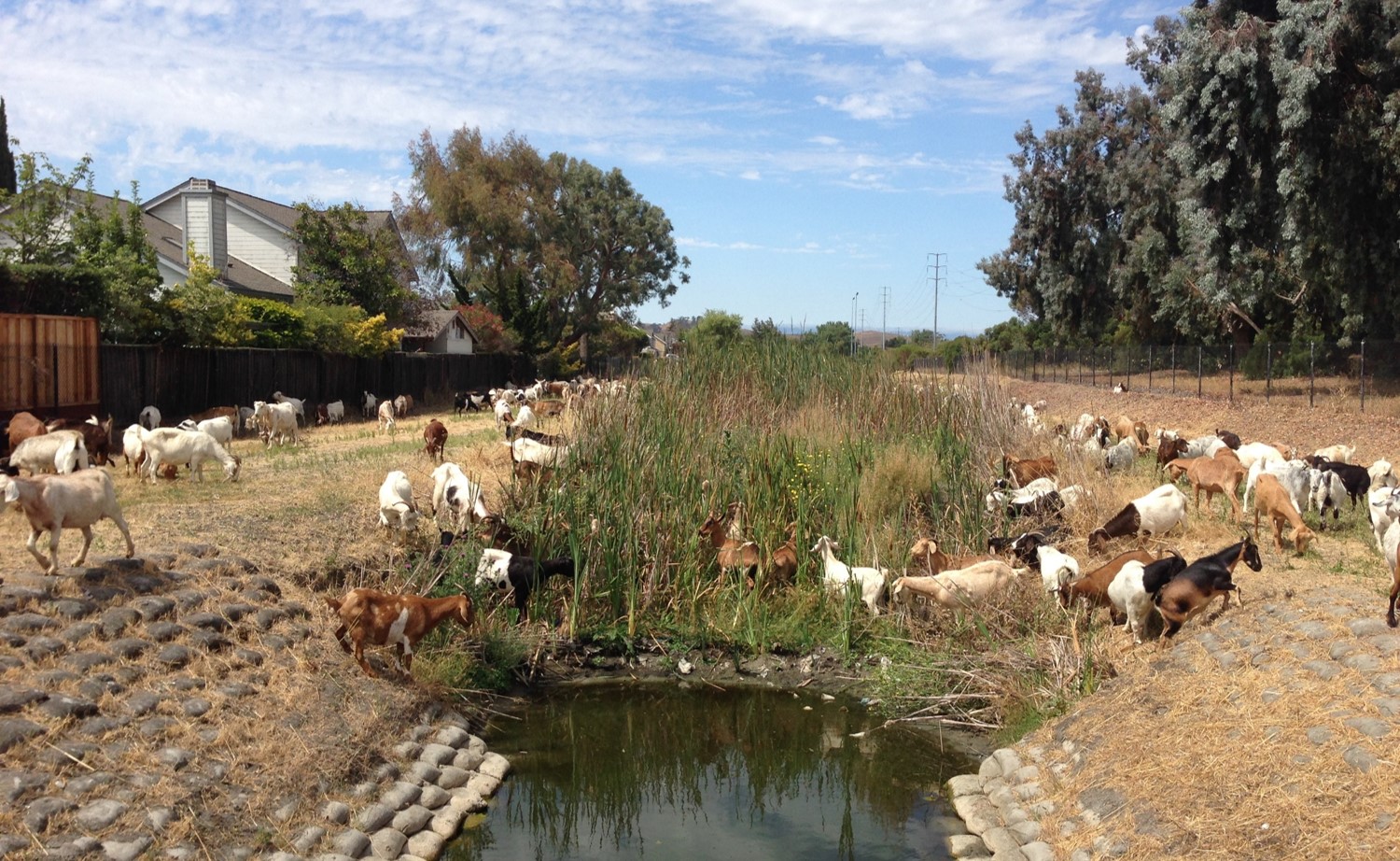 Alameda County Flood Control and Water Conservation District's Goat Grazing Program
In 2018, the Alameda County Flood Control District introduced grazing goats to the county's flood control channels as a part of our sustainability strategy. Goats are an ecologically friendly and cost-effective way to remove invasive species and poison oak. The Goat Grazing program aids in fire prevention efforts without the use of gas and herbicides.
The goats will be attended onsite by a resident goatherder, who will care for the flock and manage its grazing patterns into the fall season. The goats will not interfere with the public use of trails or restrict access to the channels. This grazing program is expected to restore native habitat, prevent erosion, protect the county watershed, and enhance the recreational enjoyment of Alameda's riparian areas for residents and visitors alike.
For more information, e-mail us at info@acpwa.org or call (510) 670-5500.
Wind Turbine Replacement
The Alameda County Public Works Agency's Building Inspection Department (BID) issued 33 building permits in 2020 for the Wind Turbines Replacement Project in the Altamont Pass Road area. A total of 24 new and large wind turbines will be installed, replacing more than 200 smaller-size wind turbines that were previously installed.
It is anticipated that the Wind Turbine Replacement will achieve a wide range of environmental objectives. The new wind turbines have up-to-date technology, and will be far more efficient than older wind turbines. A larger output capacity from the new turbines means that fewer are needed – more energy is produced and less physical space is required. Electrical substations, and operation and maintenance structures will also be replaced as part of this project, which is slated to be completed by the end of 2020.
For more information, e-mail us at info@acpwa.org or call (510) 670-4400.