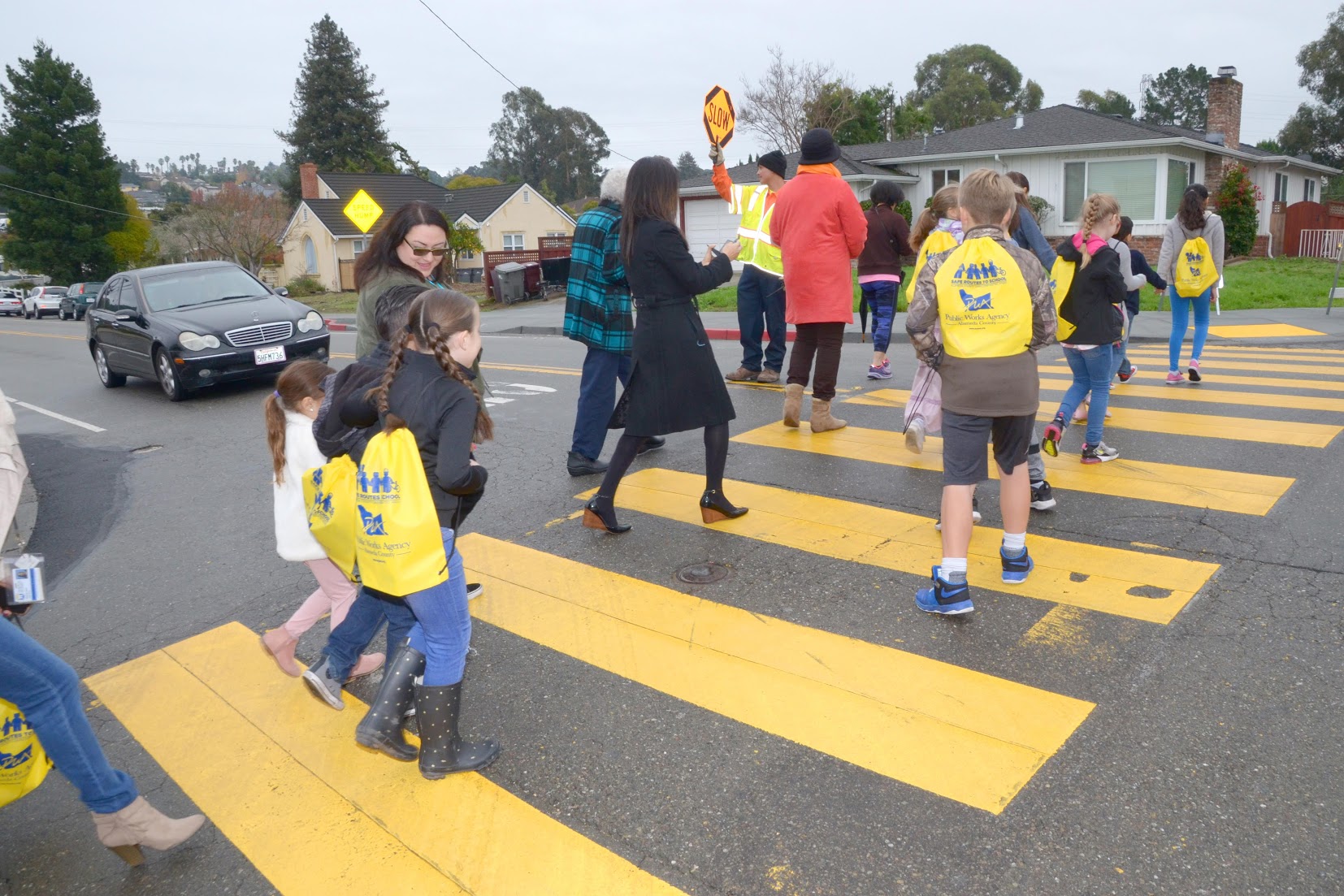 About the Crossing Guard Program
The Alameda County Public Works Agency Crossing Guard Program provides adult crossing guards in school areas where crossing assistance is needed to ensure the safe street crossing of school children. Our mission is to provide safety for children en route to and from school. To determine your school's eligibility, please review the Program Information packet below.

Crossing guard services can be requested by completing and submitting our School Crossing Guard Request Form.
For more information about this program, please email us at info@acpwa.org.
Crossing Guard Interactive Map
Location pins on interactive map are color coded as follows:
Blue pins = Castro Valley Unified School District
Black pins = Hayward Unified School District
Red pins = San Lorenzo Unified School District
Crossing Guard Location Listing
Castro Valley Unified School District
Canyon Middle School
Heyer Ave & Cull Canyon Rd
Castro Valley Elementary School
Castro Valley Boulevard & San Miguel Avenue
San Miguel Avenue & Jeanine Way
Chabot Elementary School
Lake Chabot Road & Christensen Lane
Lake Chabot Road & Keith Avenue
Creekside Middle School
Center Street & Circle Avenue
Jensen Ranch Elementary School
Marshall Elementary School
Marshall Street & Gem Ave
Omega Avenue & Fern Way
Proctor Elementary School
Stanton Elementary School
Somerset Avenue & Stanton Avenue
Stanton Avenue & Carlton Avenue
Vannoy Elementary School
Vannoy Avenue & Gliddon Street
Hayward Unified School District
Cherryland Elementary School
Western Boulevard & Sunset Boulevard
East Avenue Elementary School
East Avenue & Hansen Road
Fairview Elementary School
Maud Avenue & Romagnolo Street
San Lorenzo Unified School District
Bay Elementary School
Bockman Road & Via Walter
Grant Avenue & Bockman Road
Bohannon Middle School
Hillside Middle School
Marcella Street at Midblock Crossing
Colonial Acres Elementary School
Meekland Avenue & Hampton Road
Meekland Avenue & Paseo Grande
Del Rey Elementary School
Bockman Road & Via Del Rey
Edendale Middle School
Grant Elementary School
Grant Avenue & Paseo del Campo
Lorenzo Manor Elementary School
Bengal Avenue & Ginger Avenue